Table of Contents
Ready for the future
The first version of Tweetify It was released in January 2023, and it's been a success since launch day. Listening to your feedback and looking at the roadmap, and after more than 1000 users, it became apparent it needed a newer software and hardware platform ready to scale up and expand.
While doing it, we took the chance obviously to improve and re-write everything: better UI, more mobile-ready, rewritten AI integration, simplified and streamlined options, and a new socials-agnostic system to make Tweetify It dynamic and for all socials. And we added a new and improved Help & Faq sections answering your most common questions.
And now, 8 months after the initial release, the new Tweetify It is out, with all existing accounts and credits ported and ready to be used now!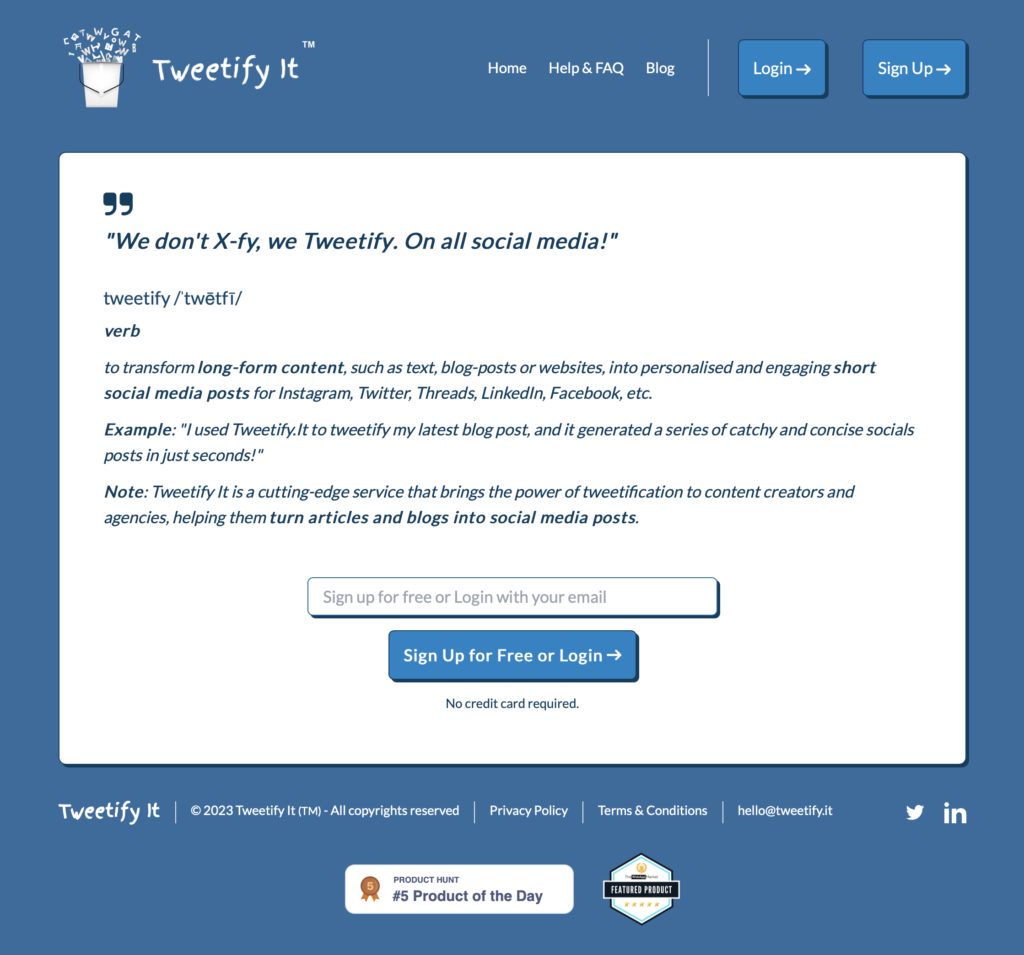 Privacy-oriented, simple passwordless accounts
One of the paramount of Tweetify It has always been the focus on privacy and simplicity. We don't ask you for any data, we don't track you, and you don't need a password. Use just your email, and you'll receive a log-in link by email.
If you have never registered an account, an account will be created for you and free credits will be given. If you already have an account, you'll just be logged in.
That's it! 🙂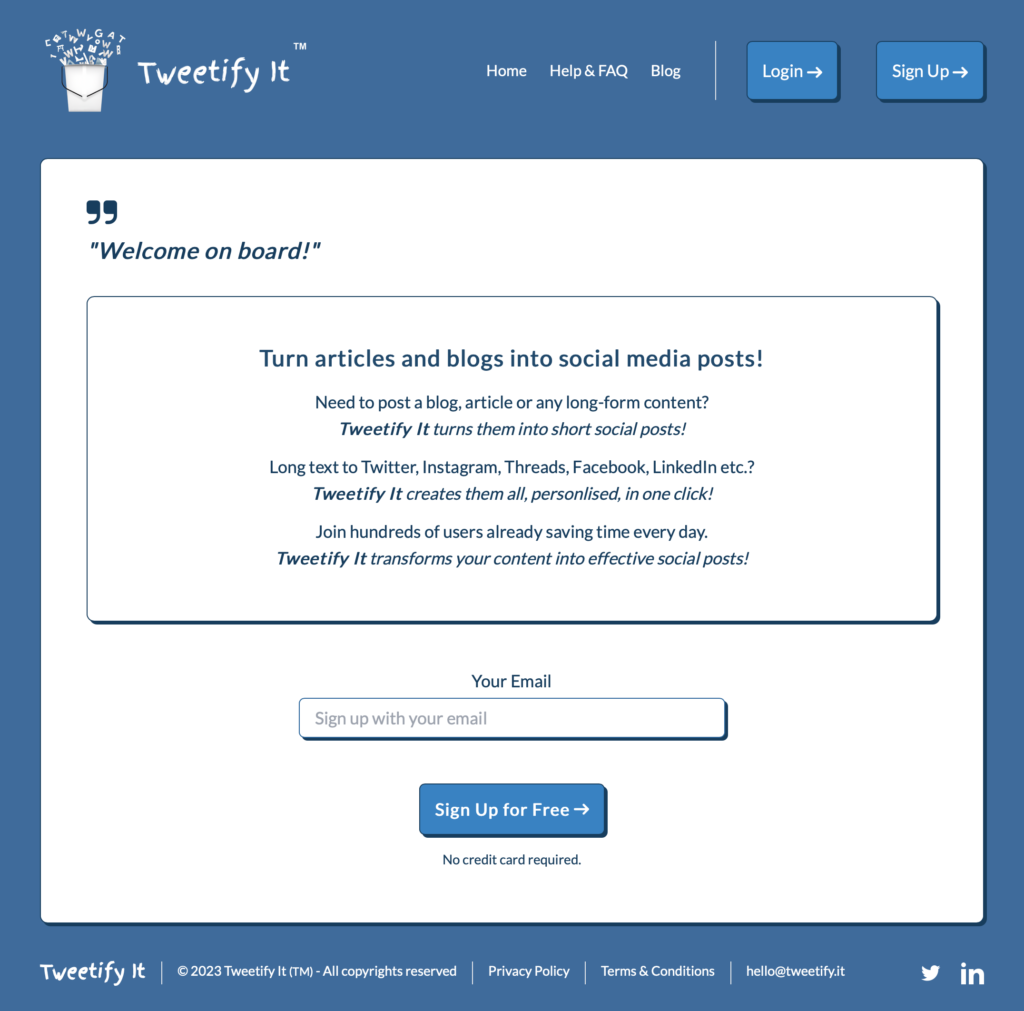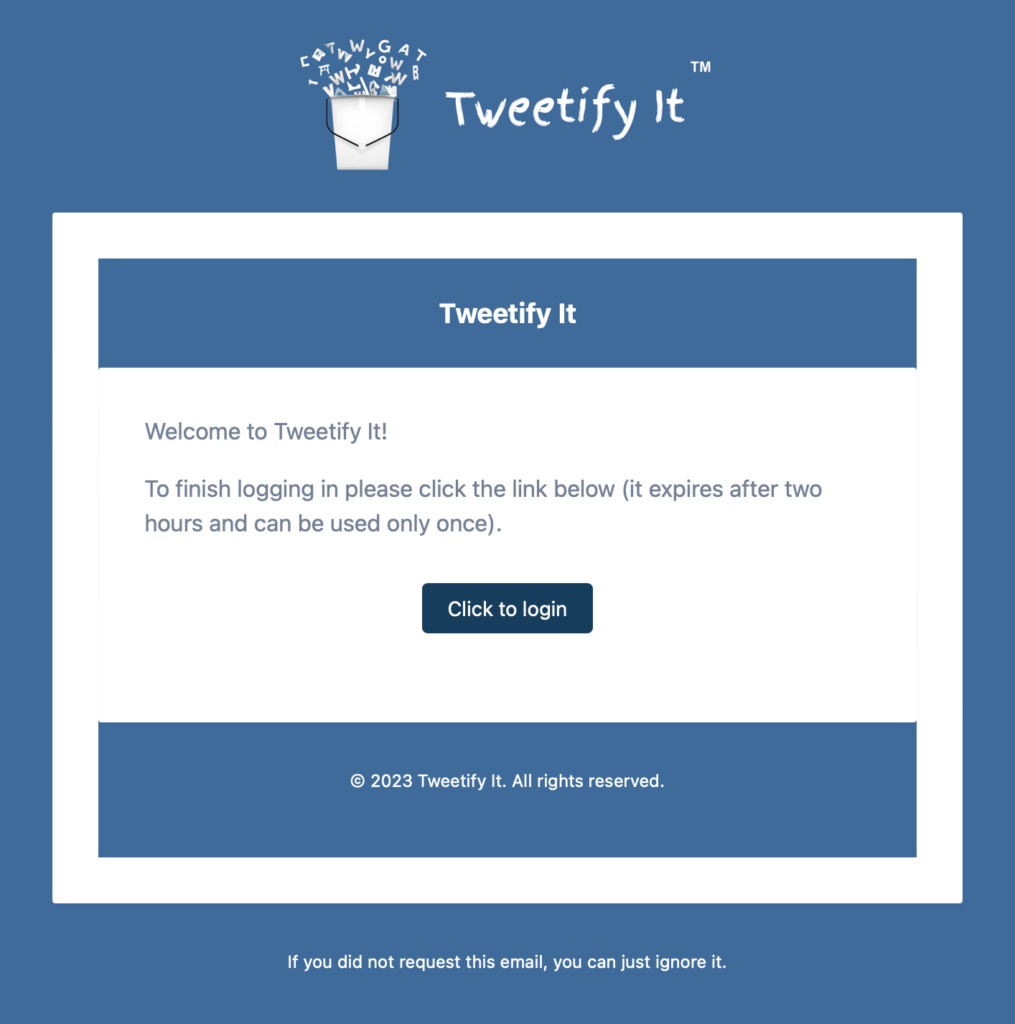 Your new Dashboard
In line with our motto of simplicity, once you arrive at your Dashboard you can see your email account and the credits you have.
Below that you can copy to clipboard your referral link or API key (coming soon!), or expand the view to see them and re-generate them: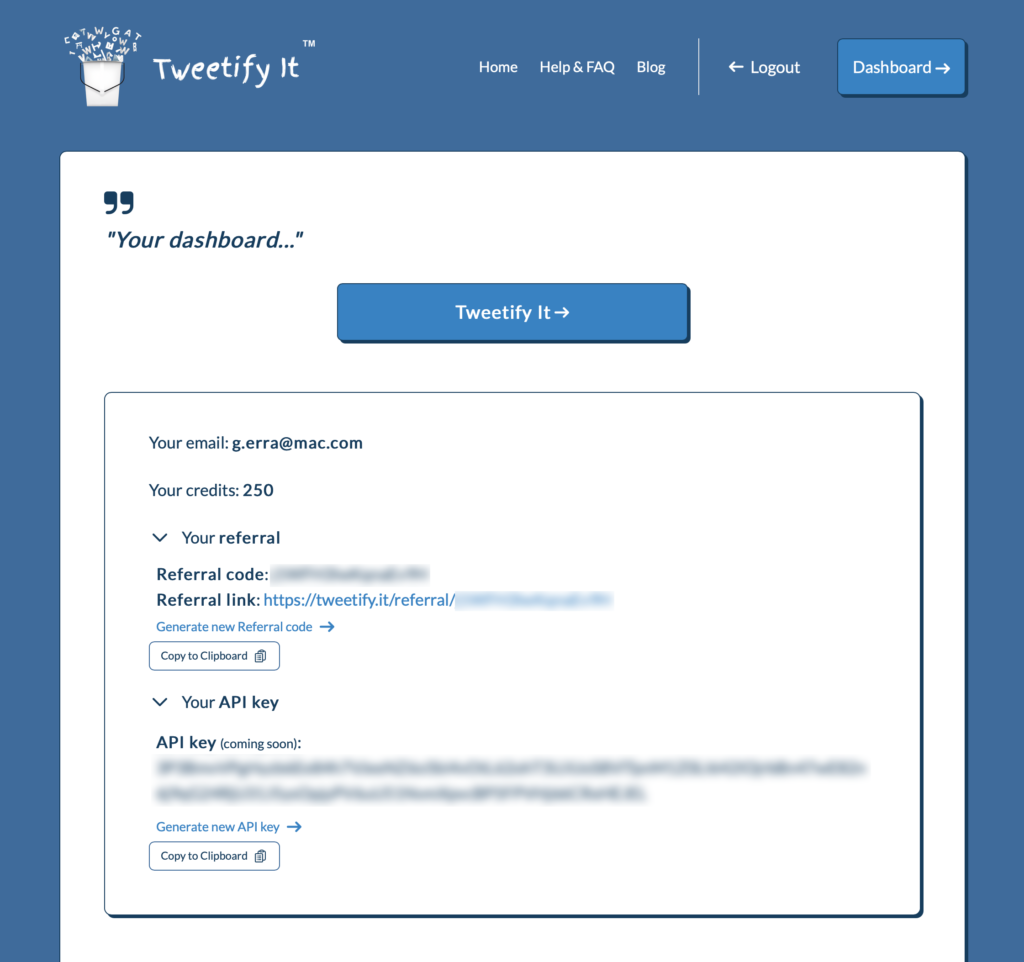 Free credits and how to get more
Each new account on Tweetify It gets 100 credits for free. And if you were part of the early adopters on the first version, you'll find additional 100 credits in your account.
Credits usage depends on usage: usually 100 credits are enough for hundreds of posts. Longer text or websites with loads of information might consume more credits.
Apart from toppig up your account, you can get more free credits using your referral link. Invite a friend to join Tweetify It, and you'll get both 100 additional credits.
And if you want to earn more, send us some feedback writing to hello@tweetify.it, and more credits will be on your way 😉
Tweetify It!
From your Dahboard, click on the big button on top Tweetify It button and you arrive at the core of the service: transforming any long-form content, be it text or a website, into personalised and engaging short social media posts!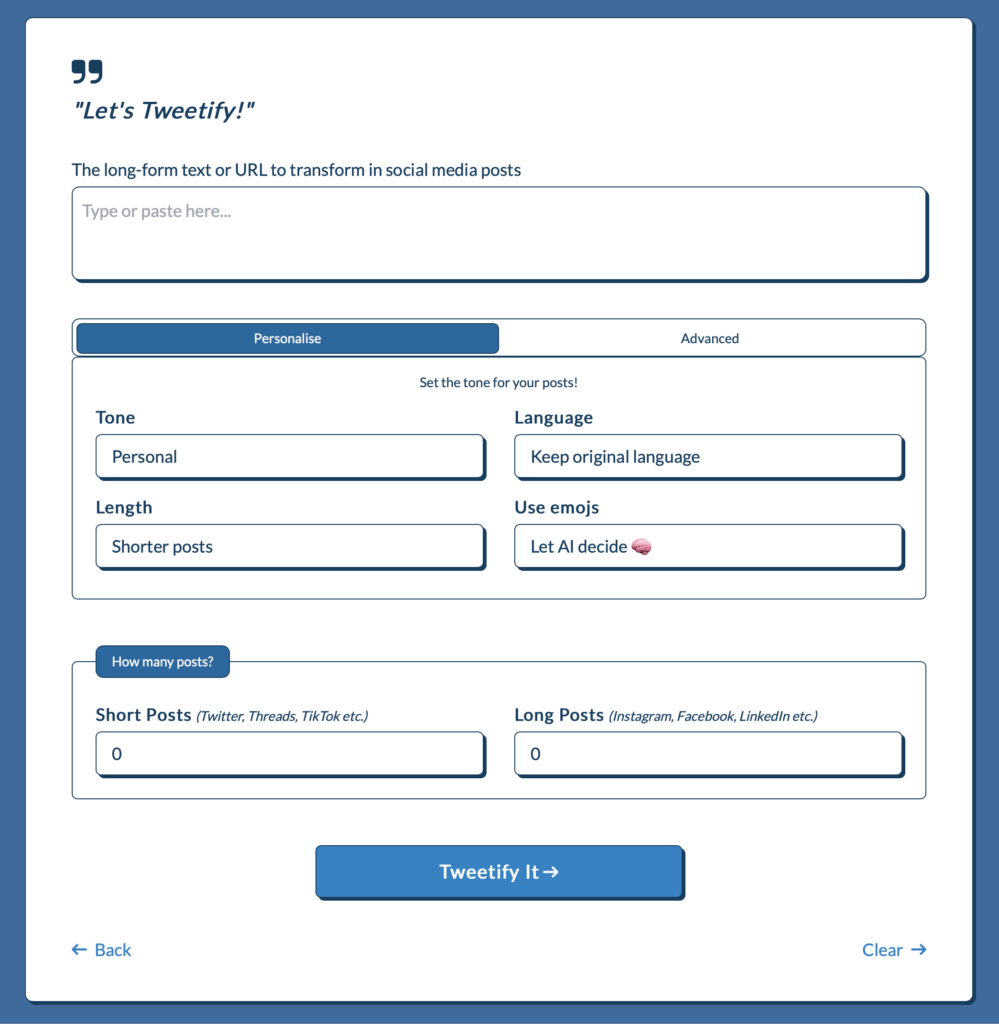 The new Tweetify It uses now a socials-agnostic approach. Don't choose what socials you want, just choose what posts you want: short posts (Twitter, Threads, TikTok etc.) or long posts (Instagram, Facebook, Linkedin etc.).
And decide how many you want for each!
On top, you find all the basic personalisation options, and by clicking on Advanced you can access additional optional settings to further personalise your posts, like @mentions, #hashtags, and topics to be covered or avoided: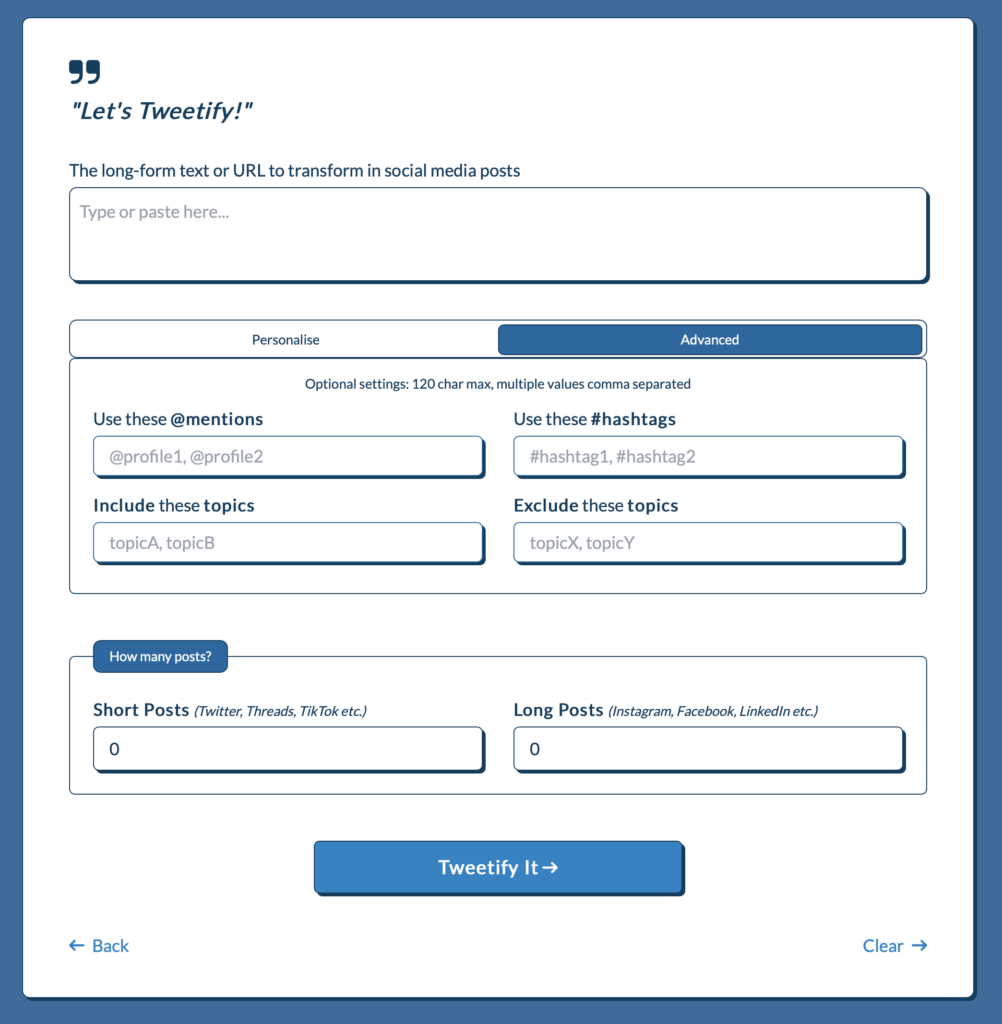 A simple example
Let's dive into a simple example! We want to create a few posts about Tweetify It, so the best place is probably to point to the About & Faq page where the AI can take most of the information.
We want to create 3 engaging posts, 2 short and 1 long, so we set all basic options on the Personalise tab and we click on Tweetify It: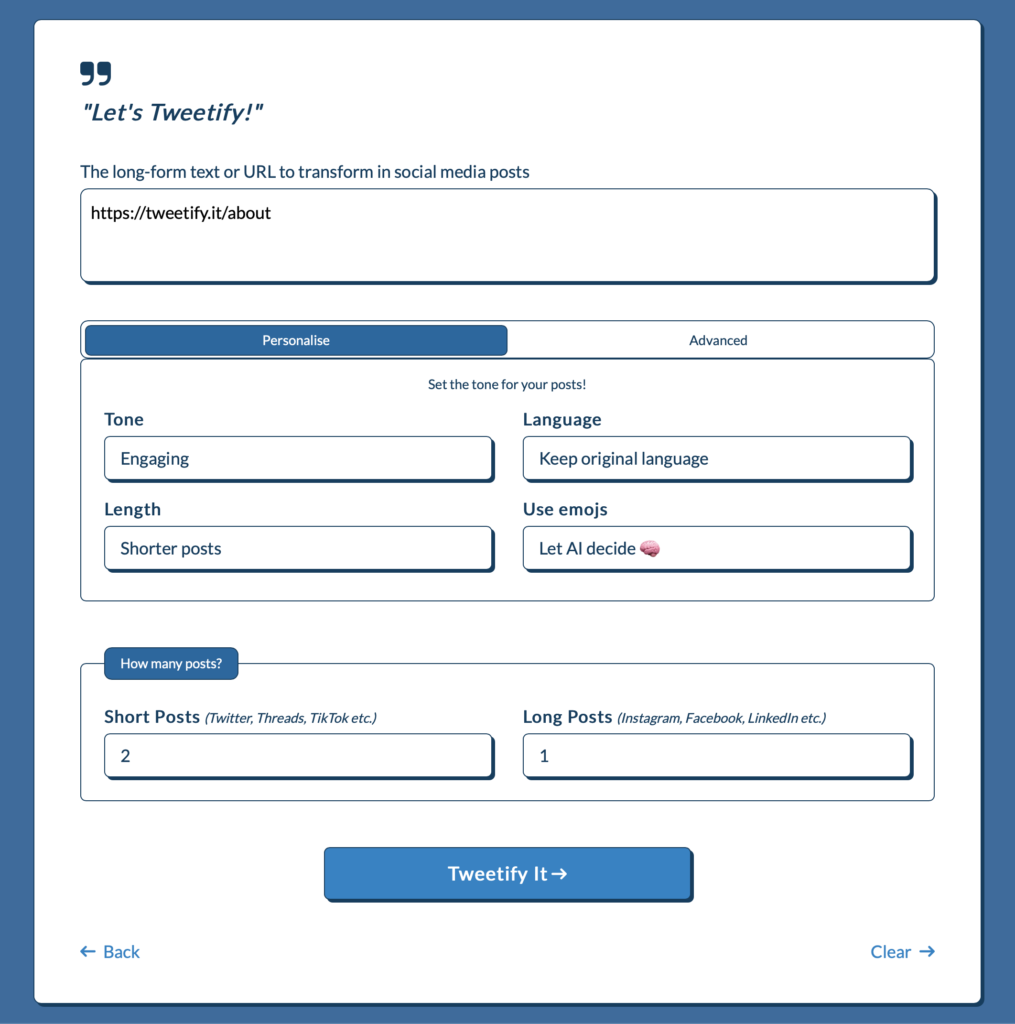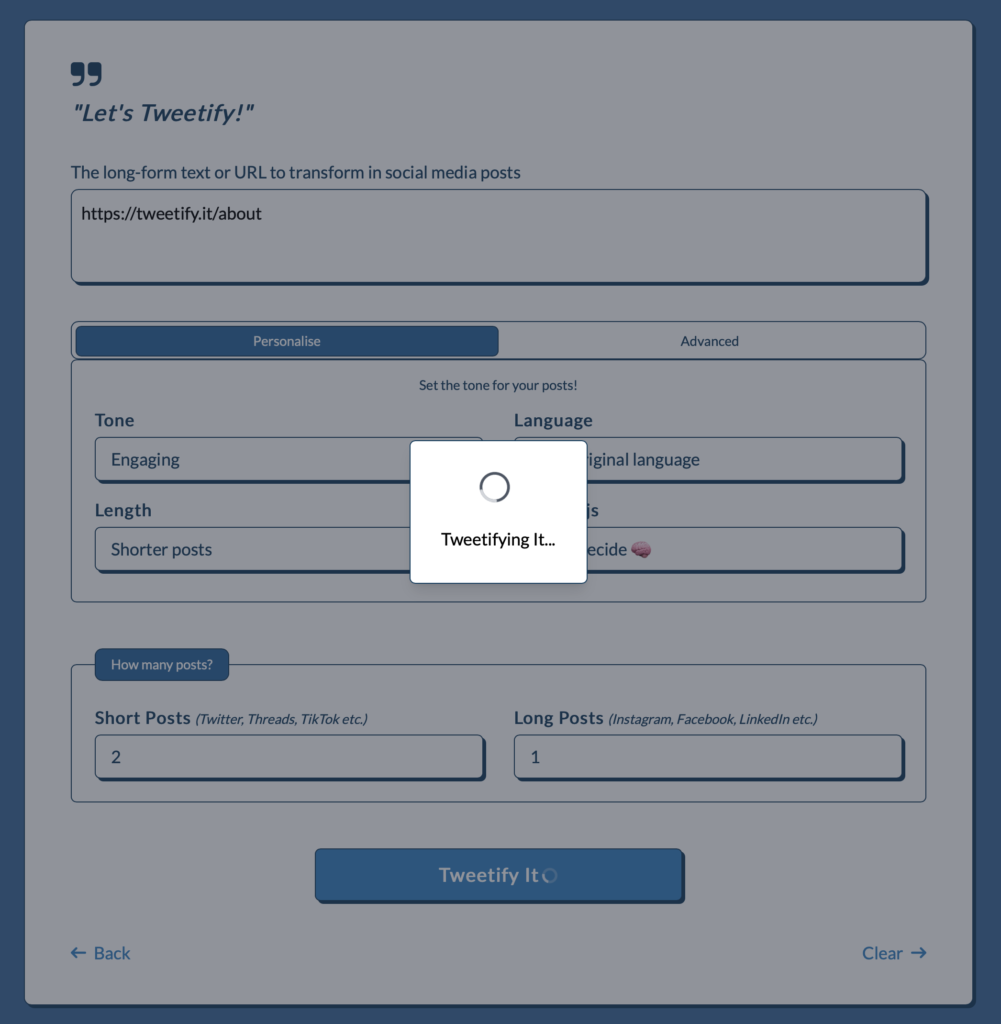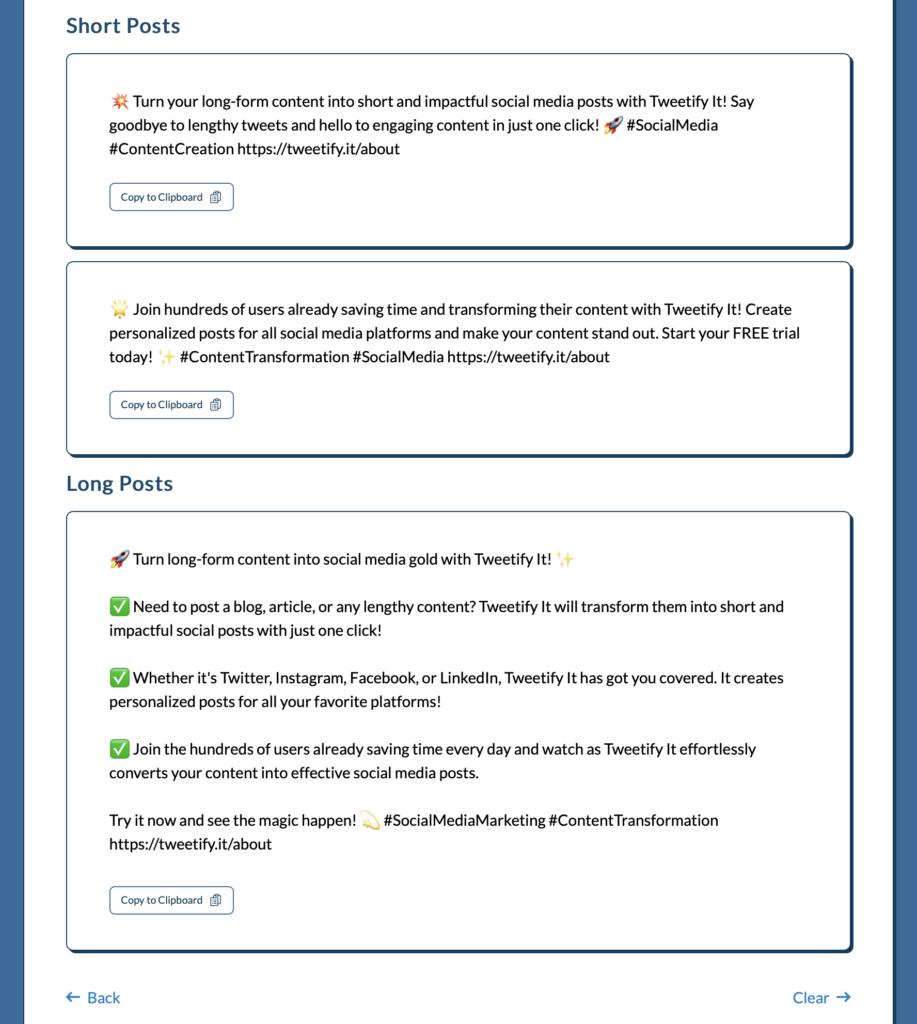 One click, and we got 3 ready posts! Just copy to clipboard the ones you want to your clipboard and use them for your social posts.
It's as simple as that!
Credits and topping up
On Tweetify It you don't need any subscription, you pay only for what you need.
First of all, use your free credits and get more free credits for potentially hundreds of posts.
When you finish them, it's very easy and cheap to top-up your account: each £1 (or equivalent in your currency) will give you 1000 credits, usually enough for hundreds of posts. Yes, for half the price of a coffee you get hundreds of posts!
To top-up is very quick and easy: on your Dashboard select the amount and click on "Pay Now by Paypal or Card", and you'll be able to pay quickly and securely.

What's the plan for the future
As more users keep arriving on the platform, the plan is to listen to feedback and implement new functionalities.
In the meantime working on major things like the API, mobile app, and browser extension.
We want to add new functionalities, like implementing image generation, the option of unlimited usage with a low-cost subscription, extending the usage of AI to manage your profiles etc.
So if you have any feedback and suggestions, don't hesitate and contact us at hello@tweetify.it. You'll be rewarded with more free credits!